Circe Invideosa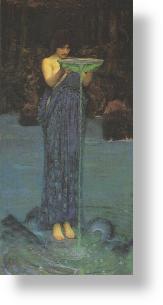 Actual View
a.k.a Circe Invideosa: Circe Poisoning the Sea
Size: 180.7 x 87.4 cm
Oil on Canvas
Painted in: 1892
Location: Art Gallery of New South Wales, Sydney Austrailia

When Glaucus's love was rejected by the water nymph Scylla, he turned to Circe for help. Falling in love with Glaucus herself, Circe conjured a plan to do away with Scylla. She poisoned the stream in which Scylla bathed and Scylla was transformed into a hideous monster.